The Lodge Management System That Elevates Nature Getaways
Your lodge provides a tranquil escape amid natural beauty.
Upgrade your lodge operations with RoomRaccoon's management software, which provides modern solutions to attract more guests searching for an exclusive outdoor retreat paired with exceptional service. 
What your lodge can do
with RoomRaccoon software
Save on third-party commissions and own the guest relationship right from the start.
Increase supplementary revenue
Indulge guests by upselling exciting ancillary services like canoe rentals to generate extra revenue!
Operate software that's intuitive & easy to learn, giving you more time for people that matter.
View key lodge performance metrics presented in a clear visual layout—no calculations needed!
Improve guest experiences
Streamline the booking process and enhance guest communication on a single powerful platform.
Collaborate with travel agents and tour operators using Room Allotment, and send custom booking links.
Integrated lodge management software, all in one platform.

Channel Manager:
Connect directly to top booking channels
We're partnered with leading OTAs and third-party booking channels to expand the reach of your room sales across multiple platforms. 
Effortlessly manage your rates and availability with RoomRaccoon's lightning-fast channel manager, all from a single screen.
Booking Engine:
Make your website bookable in an instant
By connecting the RoomRaccoon booking engine to your lodge website, you can easily convert visitors into paying guests.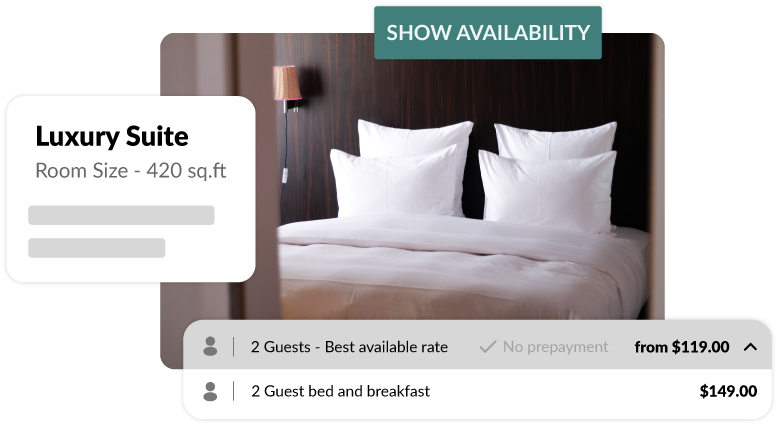 Encourage guests to make direct bookings with fully integrated features:
Currency and language converter
Multi-property switcher
Booking confirmation
Price Checker
Discount codes
Room add-ons
Responsive design
Pre-payments
PMS: Manage back and
front-end operations
The RoomRaccoon property management system (PMS) acts as a centralized hub, integrating multiple modules that cater to every aspect of lodge operations, including guest management, revenue management, property set-up, housekeeping, payments, reporting, and more!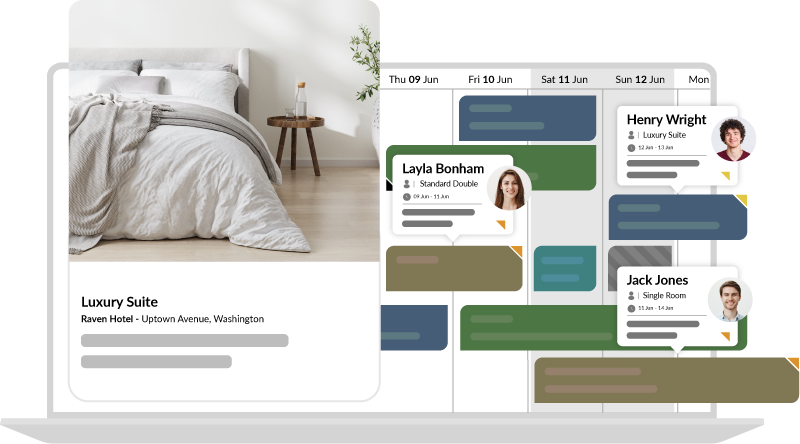 Online check-in

Upsells

Marketplace

Personalized emails

Online self check-out

Housekeeping app

Digital payment requests

Mobile key integrations

Packages & add-ons
 Engineered to suit your needs, our user-friendly lodge management system blends effortlessly with your existing tools, all while prioritizing impeccable security. Experience growth without limits, backed by reliable support and regular updates. 
Empower your team with intuitive technology that evolves, adjusts, and excels, just like the ever-changing beauty of the outdoors.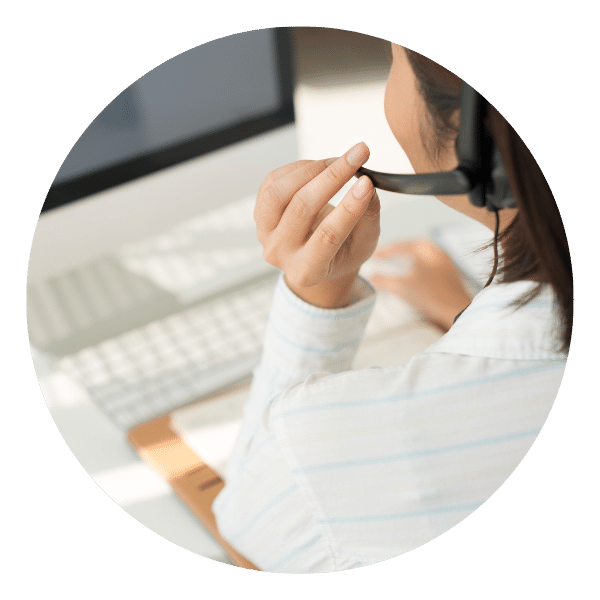 Training and support

Dedicated services to get you up and running quickly with continued support.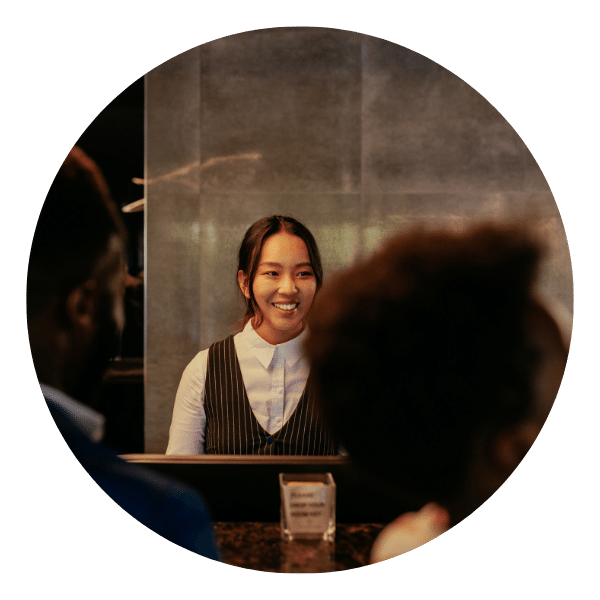 Features and ease of use

Directly tailor the system to your setup with integrated modules and upgrades.
Why Property Operators Love RoomRaccoon
Exceptional professionalism
"RoomRaccooon has transformed our booking management system overnight. The professionalism it allows us to deliver to our clients is exceptional."
Mariessa Devlin, Gleneagles Luxury Apartments
"What is RoomRaccoon in one word……. BRILLIANT! It has made my life as a B&B owner so much easier"
Owner, 58 On Hume
"RoomRaccoon's best features are its user-friendliness, modernity, connection to our online payment system and other platforms, as well as the constant evolution and improvement."
Property owner, Mr. Kahawa Waterfront Suites
"This is the best and easiest booking and channel management system I found available on the market. The team is really friendly and always ready to help in case of any queries. Will recommend without hesitation!"
General Manager, Ocean Sports
Channel Management Software for Hotels & Hosts
RoomRaccoon data reveals that the average hotel uses 3-5 booking channels to distribute its inventory. That's why it's important to have an efficient channel manager. Explore 10 expert questions to ask software providers so that you can make the perfect investment for your business!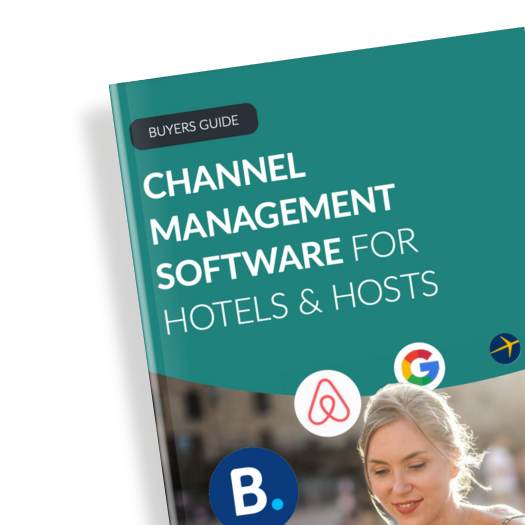 FAQs About Lodge Management Software
1
What is a Lodge Management System and how does it work?
A Lodge Management System is a software solution that automates operations, tailors guest experiences, and safeguards data. It boosts revenue, empowers staff, and fuels business growth. By automating these processes, the system helps lodges enhance guest satisfaction and operational effectiveness.
2
What are the key benefits of using a Lodge Management System?
As a lodge owner, you're well aware that ancillary services such as game drives, guided walks, barbecue packets, and F&B play a pivotal role in revenue generation. Yet, there is often a lack of promotion, which means guests are not aware of these add-ons. As a result, lodges miss out on increasing their total revenue per available room (TrevPAR). A Lodge Management System helps you efficiently showcase these services, enhancing guest experiences and revenue potential. With a feature like RaccoonUpsell, you can engage guests during online check-in with exciting add-on service options and room upgrades.
3
How can a Lodge Management System enhance guest experiences?
A Lodge Management System elevates guest experiences by personalizing services based on preferences, ensuring smooth check-ins, housekeeping, and seamless billing. It empowers staff to respond promptly, creating a delightful blend of nature's charm and convenience for modern travelers.
4
What features should I look for in a Lodge Management System?
When looking for a Lodge Management System, there are several features that you should consider. Common features of a lodge management system include:
Reservation and booking management Guest check-in and check-out Room allocation and management Billing and invoicing OTA integrations Reporting and analytics Housekeeping and maintenance Channel management Revenue management and pricing tools
5
Is data security ensured in a Lodge Management System?
Absolutely! RoomRaccoon's lodge management software uses industry-leading encryption, secure access controls, and compliance with industry standards. Payments are secured with 3D Secure to prevent chargebacks and fraud. Guest data is tokenized within the system. As a hotelier, you have full control over user permissions, allowing you to limit and restrict access based on roles and responsibilities. This means that your housekeeping staff might have access to room assignments and cleaning statuses, while your general managers have access to financial reports and guest profiles.
6
How much does a good lodge management management system cost?
At RoomRaccoon, we understand that every lodge is unique, which is why we offer a variety of packages to fit your specific needs. Our Entry, Starter, Premium, and Enterprise options are tailored to accommodate different lodge sizes and demands, starting at $180 per month based on property size. You can choose from a range of basic to advanced features, all at a price that works for your budget.
Get in touch with us
or visit our
pricing page
to find your ideal lodge package.